The Symphony Style File
AED 880,000 Raised for Noor Dubai Foundation
Posted in The Symphony Style File on: 26/04/2012
Symphony Style LLC concept (Symphony, The Dubai Mall's parent company) The Ara Gallery hosted a series of events this
past week for the Noor Dubai Foundation and have succeeded in raising an amazing AED 880,000 in funds for the charity. There was a two day ART4SIGHT exhibition and charity auction held at Ara, and a 'surprise' Nja Mahdaoui collaborative art work with three young Emirati artists represented by Ara that was auctioned off at Christie's on April 17th. We are so proud of The Ara Gallery and all of the artists and people who helped to raise such a life-changing sum for this great cause.
Several known artists including blind Turkish artist, Esref Armagan, contributed their works to raise 880,000 AED in this charity fundraising exhibition and auction…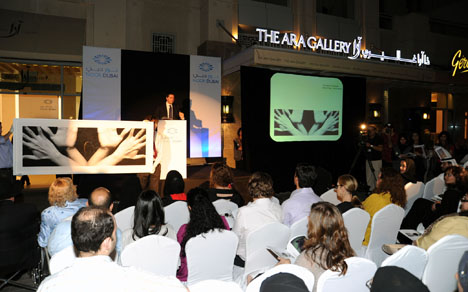 For the second consecutive year, ART4SIGHT succeeded in raising funds to support Noor Dubai Foundation's prevention of blindness programs globally. Art4Sight was held for the second consecutive time in Dubai – the two-day event took place at The Ara Gallery located in The Centre of Now, Downtown.
His Excellency Qadhi Saeed Al Murooshid, Chairman of the Noor Dubai Foundation said: "The proceeds of the Art4Sight exhibition will help fund many blindness prevention programs in countries of need. ART4SIGHT brought together all members of society for a common cause to help provide the blind living in countries of need with the gift of sight."
Dr. Manal Taryam, CEO of Noor Dubai Foundation said: "With overwhelming support from local and international artists, local art galleries and renowned art auction houses, this year's event has been a more impressive experience for art lovers, whose contribution will directly help preventative blindness programs in countries of need. This includes providing those who are unable to afford eye medication and glasses with an aim to prevent further deterioration of their condition. People across the world are in much need of our assistance and through this program we aim to make a positive difference to their lives and the lives of their family members."
Dr Taryam said that at this year's event, Noor Dubai was privileged to have the attendance of the phenomenal blind artist Esref Armagan. The inability to see has not hindered this Turkish artist from his goal of painting beautiful works of art which have been featured on international documentaries including the Discovery Channel's 'The Real Superhumans'.
At the gallery, Armangan, sketched the Burj Khalifa Tower. He was presented with a momentum of the tower, which he felt with his fingertips and based on that, he sketched the tower. As a token of his gratitude, Esref presented the sketch to HH Sheikh Majid, chairman of the Dubai Culture and Arts Authority, who inaugurated the Art exhibition last Sunday. Armangan said, "I wanted to learn about the world I live in through my fingertips. Although I am blind, I do not consider myself to be blind because I can recognize the world and draw pictures. I am honoured to be here today, to support this cause, which is very close to my heart."
Three of his works were auctioned at ART4SIGHT including his work entitled 'Waves', painted in 2008, which depicts the energy and movement of the ocean, concepts which were thought to be impossible to portray by a blind person. Esref may have been born blind but his ability to paint beautiful art pieces, many of which are currently exhibited in international museums, has amazed scientists and led to them to re-evaluate the visual pathway that they believed existed and taught in medical schools for years.
Other works of art displayed during this exhibition included works of modern and contemporary Arab, Iranian and Turkish Art. Works included those of Abdulqader Al Rais, an Emirati artist whose work sold for 212,000 AED. Also, a collection from artist Najat Makki titled 'Amel', which translates into the word 'Hope', sold for 135,000 AED.
A surprise artwork by HH Sheikh Hamdan, 'Towareg'
A surprise photography piece was presented at the auction titled 'Toware'", which was donated by His Highness Sheikh Hamdan Bin Mohammed Bin Rashid Al Maktoum, Crown prince of Dubai and was taken by His Highness in 2008 of the tribe Towareg in Niger.
In addition to the funds raised through last night's auction, a calligraphy piece was sold at auction by the Tunisian Artist Nja Mahdouie. This piece was executed and sold for 180,000 AED through a live performance that was joined by 4 Emarati artists during the Christies auction last week in Dubai.
The Ara Gallery also celebrated their one year anniversary this April 22-23 alongside ART4SIGHT, Noor Dubai Foundation's annual charity art event. The exciting preview exhibition was honored by the presences of HH Sheikh Mohamed bin Rashid AlMaktoum, HH Sheikh Majid bin Mohamed AlMaktoum, and HE Mohamed Al Gergawi…
Many UAE based art galleries also donated to the cause including: The Barjeel Foundation, Tashkeel, Farjam Collection and The Salsali Private Museum. Art pieces included work from internationally recognized artists such as Mohamed Kanoo, Reza Hosseini, Himat, Manal Dowayan, Babak Kazemi, Jalal Luqman, Azza Al Qubaisi , Khawla Al Marri and HH Sheikha Lateefa Bint Maktoum.
The funds raised totaled up to 880,000 AED and will support Noor Dubai programs globally and directly help those who are unable to access the medical attention they require.
Noor Dubai Foundation is currently preparing for its third mobile eye camp in the city of Worabe in Ethiopia.
Follow The Ara Gallery on Twitter: @TheAraGallery
Like The Ara Gallery on Facebook: www.facebook.com/TheAraGallery
xoxo
View Comments / Make a Comment