The Symphony Style File
What's new at Symphony for Autumn/Winter 2012?
Posted in The Symphony Style File on: 26/07/2012
The new season is upon us and we have already received some stunning Autumn/Winter 2012 collections from Michael Van Der Ham, Alessandra Rich, Angel Jackson and Anna Sui at Symphony. What else can you expect? Read on to discover our NEW and EXCLUSIVE addition at Symphony, The Dubai Mall for the AW12 season…
ANGEL JACKSON – NEW
Young British accessories label, Angel Jackson, is a new addition at Symphony for Autumn/Winter 2012. Established in 2006, the line quickly became known for its unique and modern accessories. serious fashion player the Brand won the Topshop New Designer Award in its first season.  Recognised by the British Fashion Council and British Vogue, Angel Jackson was the first and only accessories label to be short-listed for the highly esteemed Designer Fashion Fund, alongside catwalk designers, Erdem and Christopher Kane. Angel Jackson bags have that "don't mess with me" elegance favoured by the offspring of rock n' roll legends. They continually deconstruct ideas to produce accessories that are both modern and super chic but with a healthy dash of underground edgy-luxe. For Autumn/Winter 2012, the Angel Jackson range is split into three collections. 'Rule, Britannia!' is inspired by luxury and heritage – traditional shapes and materials have been reworked with an emphasis on authentic British values and standards. Whilst 'Bright New World' features a fusion of Asian, African, Indian and Chinese influences – combining bold prints, appliqué, and flamboyant bead work onto the signature Angel Jackson satchels. Finally, 'The Future's Bright' features bags that are influenced by engineered structures and futuristic technology. Using new materials and exotic leathers in a platicised bright colour palette with shapes that range from sharp and tight to augmented and blown out of proportion. The entire collection for AW12 was recently called in by the Gossip Girl stylists so we expect to see Blair and Serena rocking these beautiful bags next season! If you want to beat the gossip girls to it, head to Symphony, The Dubai Mall now. Full collection images and prices can be found here.
ANTONIO BERARDI – NEW
Born in the UK in 1968 to Sicilian parents, Antonio Berardi studied at the prestigious Central St. Martin's College of Art and Design in London whilst simultaneously working as John Galliano's assistant. The collection Berardi created for his final year as a student in 1994 created a professional sized splash, attracting the attention of London buyers including Liberty and A La Mode. 1995 marked Barardi's first professional collection and since that day, the designer has been determined to make his business independent so that his reputation would never depend on outside investors. Today, Antonio Berardi is one of the very few internationally influential designers operating a completely autonomous company. Antonio Berardi is a line of ready-to-wear and accessories created for impeccable, urbane women who prefer a striking, classical, dressed-up look, but who respond to advanced fabrics and manufacturing possibilities. For Autumn/Winter 2012, Berardi was inspired by the following poem by British poet Arthur Symons (1896): "As perfume doth remain in the folds where it hath lain, So the thought of you, remaining deeply folded in my brain, Will not leave me: all things leave me: You remain." Coming soon to Symphony, The Dubai Mall.
APERLAI – NEW
Aperlai, the luxury accessories line founded in 2009 by Alessandra Lanvin, was named after the ancient Lycian city – a twenty-minute boat ride from Alessandra's family home. Lanvin inherited her taste for beauty, elegance and charisma from her mother who was a muse to artists such as Salvador Dali. Her refined vision and appreciation of craftsmanship came from six years working in the luxury industry in Paris. Graphic pure lines, contrasts, asymmetries and essential sophistication are the leitmotivs of Alessandra's style. Exotic skins such as python, stingray and pony are some of the quality materials adopted in Aperlai's shoes – which are handcrafted in Italy near Venice. Celebrity fans include Gwyneth Paltrow, Blake Lively, Kate Bosworth and Jessica Alba. For Autumn/Winter 2012 fine lines, asymmetries and splashes of colour expand over the feet, creating a surrealist harmony for the new season. Shoes hug the feet as a painter with his canvas, through a varied palette of colours that recall the intense tonalities of Miro and Calder. From the discreet night blue and chocolate brown through to the saffron, brick and lobster orange. Shapes delimit the boundaries of colour. Chromatic circuits of curves or pointy lines that cross over themselves, sculpting legs and feet. From sandals to loafers, from booties to cussardes, to the audacious stiletto and hexagon heels. Textures are refined and cosy: velvety suede, details of passementerie, soft and shiny fur, rare metallic lizards and soft enveloping snake. Coming soon to Symphony, The Dubai Mall.
BIONDA CASTANA – NEW & EXCLUSIVE
Worn by stars from Kate Moss and Chloe Sevigny to Rihanna, British shoe brand Bionda Castana is on an international upward trajectory. Despite its Italian name – meaning Blonde Brunette – Bionda Castana is created by London girls Jennifer Portman and Natalia Barbieri in London and handcrafted in a family-owned factory in Italy. Established in 2007, the label is known for its unapologetically glamorous yet wearable designs. Feminine shapes with harder detailing – from studs and zips to buckles – are its signature aesthetic, and epitomise the Bionda Castana customer. Inspired by the strength, beauty and mystique of film noir heroines, Bionda Castana's Autumn/Winter 2012 collection is timelessly confident, effortlessly sexy, and utterly irresistible. The sensual, unspoken sexuality of the Forties and Fifties beats at the heart of the collection – each shoe the footwear equivalent of a knowing glance or subtle smile. Coming soon to Symphony, The Dubai Mall. Watch the AW12 film here.
BARBARA CASASOLA – NEW & EXCLUSIVE
Born in Brazil in 1984, Barbara studied fashion design at Central Saint Martins in London and later at Institutio Marangoni in Milan where she graduated cum laude and first in her class in 2007.  On graduation, she was hired by Roberto Cavalli in Florence, whom she met at the presentation of her eco-fashion capsule collection at The Un in New York. At Cavalli, Barbara was first assistant designer for womenwear – a position she held for two years. Barbara moved to Paris in January 2010 to work with Gabriele Greiss (former Creative Director at Sonia Rykiel) on assignments for Lanvin and See by Chloe, including designing for Lanvin's Spring/Summer 2011 catwalk show. In the winter of 2011 Barbara launched her eponymous label – Barbara designs from her studio in London and each piece in made in Italy. Graphic, modern and elegant, the Autumn/Winter 2012 collection is primarily compromised of long column dresses, shirt dresses and jumpsuits. A jacket, coat and cape complete the twenty looks of the formal winter wardrobe for mother and daughter.  The appearance of simplicity and power is driven by intricate pattern work that combines cutouts, together with elements of Episcopal tailoring. Stained glass inspired a rich and discrete palette of signature hand-dyed fabrics in petrol blue, stone white, Bordeaux, monk yellow and black. Pure silks and silk-wool mixes are employed throughout the collection, often bounded with techno-fabrics to better sculpt the silhouette. Organza and georgette offset deliberate reserve with elements of freedom. The results are elongated silhouettes that extol an effortless yet ceremonial appearance in a modern mix of restraint and movement. Coming soon to Symphony, The Dubai Mall.
CHRISTIAN SIRIANO – EXCLUSIVE
Christian Siriano attended the Baltimore School for the Arts and studied fashion in London, where he interned with industry legends Vivienne Westwood and Alexander McQueen. When he moved to New York City, Christian became the youngest winner and fan favourite of Bravo's "Project Runway." Christian shows a full collection each season at New York Fashion Week, and his designs have appeared in some of the most respected fashion magazines around the world and are coveted by celebrities such as Rihanna, Lady Gaga, Victoria Beckham, Leigh Lezark and Heidi Klum. Oprah Winfrey calls his designs "works of art." Tim Gunn calls him   "a prodigy" and "the next great American fashion designer." He is the youngest person to ever appear on the Crain's "40 Under 40″ list. For Autumn/Winter 2012, Siriano was inspired by bats and specifically the 1930's film The Vampire Bat. These flying demons of the night intrigued Christian with their creepy, dark and dramatic presence, as well as the intricate details of their veins and the bone structure of their wings. Siriano translated the beauty he found in the wings of the bat through leather appliqués, ethereal flowing silk crepe dresses, tops and capes taking flight. The black and white '30s film featured lead actress Fay Wray, who was elegant and sophisticated wearing beautiful blouses tucked into long evening skirts in black and white, a look juxtaposed with the core horror content and backdrop of the movie.  The grainy nature of the old film inspired the colour palette and the modern prints seen throughout the entire collection. Coming soon to Symphony, The Dubai Mall.
FELICITY BROWN – EXCLUSIVE
Felicity Brown chose to show her Autumn/Winter 2012 collection – which also marks her first salon collection – at the imposing grandeur of Two Temple Place. The exemplary craftsmanship on display within the ornate walls aptly reflects Felicity's own skill for intricate design and her unique artisan approach. For Autumn/Winter 2012 Felicity's vision is stripped back to its foundation with a renewed emphasis on hand dyeing, printing and layering. This season she has decided to focus solely on modern women who seek refined but relaxed daywear. The Arts & Crafts Movement and the recent V&A exhibition 'Quilts 1700-2010', showing early examples of English quilting and patchwork, influenced this collection. Felicity was inspired to layer her printing techniques with shards of fabrics to echo the effect. The Laura Ashley's 1960's style of traditional hand printing and craft also reverberates throughout the collection. Using an artisan style smock dress as her canvas, Felicity hand-dyed and printed raw blocks of colour and pattern. From the enlarged paisley print on her burnt-orange signature peasant skirt to the abstracted slices of peach, mustard and slate through her oversized tops, this is a personal meditation on Felicity's artistic influences and her handcrafted approach to design. Felicity graduated from the Royal Collage of Art with an MA in Textiles. She went on to work for Alberta Ferretti, Loewe, Mulberry and Lanvin before she founded her company with her brother Henry Brown in 2011. Coming soon to Symphony, The Dubai Mall.
ISSA LONDON – NEW
For Autumn/Winter 2012, Brazilian born and London based designerDaniella Helayel was inspired by a fictional Issa woman as she begins her Trans-Siberian journey from Moscow to the Forbidden City in Beijing with a collection brimming with the traditional, elaborate symbolism of this ancient civilisation. She shields herself against the bitter Siberian winds in sleek wool-cashmere blend military coats with crested gold button detailing, modern swing coats or structural capes with grosgrain trim. Prints are inspired by the ornate embellishment of Faberge eggs, St Basil's Cathedral and the traditional paisley print of Russian dolls. Touches of the nomads' traditional dress can be found in embellished, cropped jackets featuring an eclectic mix of textures; contrasting crystal with rich wool threads and feathers. A majestic, long cape with an embroidered neckline billows in the wind whilst a kimono inspired jacket in white wool crepe paired with wide leg trousers is the perfect outfit for a long, lazy dinner. Prints with dragons creeping between softly lit lanterns and delicate patterns from Ming vases stem from the all-encompassing ancient heritage the Issa woman absorbs as she approaches the Forbidden City. Show stopping eveningwear captures the decadence of a bygone era with heavily embroidered, art deco inspired party dresses in liquid gold jersey with China red lace, scalloped hems and dropped waists to dance through the evening. Over the years Issa has been embraced by a growing number of celebrity fans; including Madonna, Princesses Beatrice and Eugenie, Laura Bailey, Scarlett Johansson, Kate Middleton, Sharon Stone, Kristen Davis, Kylie Minogue, Keira Knightley, Jennifer Lopez and of course Issa women all over the globe of different ages and sizes. Coming soon to Symphony, The Dubai Mall.
KARA ROSS – NEW
One of Kara Ross's fondest memories of her childhood is a safari to Africa with her parents at the age of thirteen. To commemorate the trip, Kara's parents allowed her to choose a native gemstone of her choice. When they returned to their home, Kara was told she could design and create a ring with the tourmaline she chose. After a trip to 'Jeweler's Row' in downtown Philadelphia, Kara decided to create a square cut ring on an 18 karat gold band with diamonds. "To know that I could create something wholly original at a young age really affected me." It was a concept that would guide her vision as a designer. After graduating from Georgetown University and a brief stint in advertising at Harper's Bazaar, Kara became a certified gemologist. For many years, she used diamonds, pearls, and 18kt gold to create one-of-a-kind custom pieces for private clients. Her most famous private client to date is President Obama and the First Lady, for whom she created exclusive gifts made from Magnolia wood that originated from the White House lawn. While the initial piece was created for visiting heads of state, the collaboration has continued, and Ross continues to design gifts for esteemed visitors and employees of the White House. In 2003 she founded the company Kara Ross, which has rapidly grown from its origins in fine jewelry and is known for its bold and unique use of exotic skins and gemstones across several jewelry lines, handbags, and belts. Kara's pieces have been featured internationally in top fashion magazines such as Vogue, Harper's Bazaar, W, and Elle. Celebrity fans include Kate Hudson, Hilary Swank, Cameron Diaz, Eva Mendes, Kate Beckinsale, Eva Longoria, Anne Hathaway, Demi Moore, Oprah and Michelle Obama. Coming soon to Symphony, The Dubai Mall.
KATIE ERMILIO – EXCLUSIVE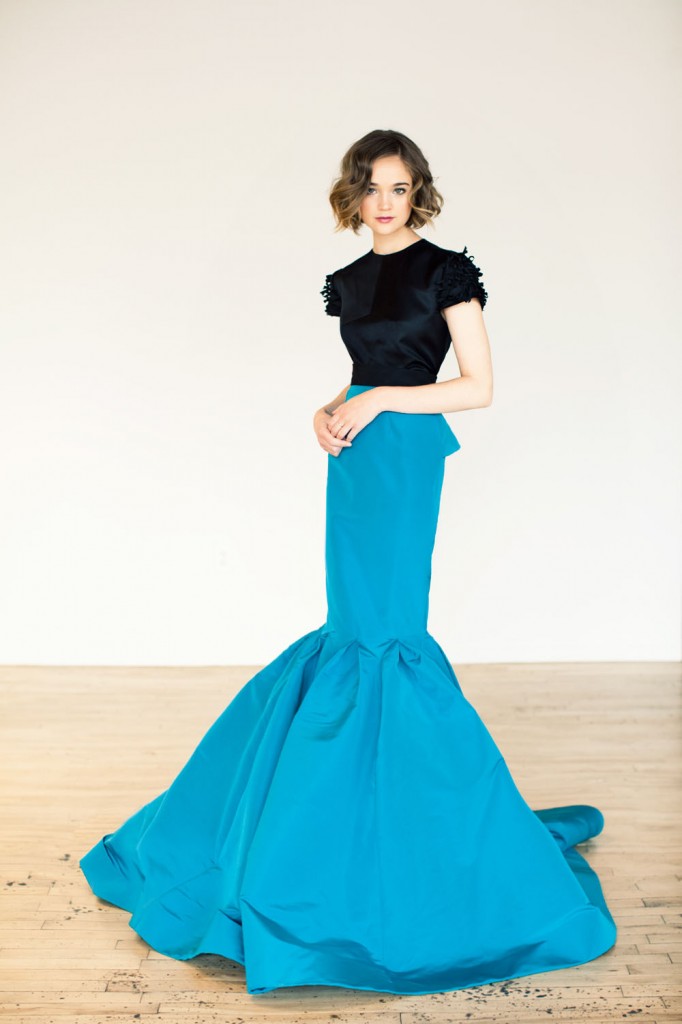 As the Granddaughter of Grace Kelly's personal clothier, it's easy to see a sense of history in Katie Ermilio's clothes. From the iconic green jacket her Grandfather designed for Augusta's Masters Tournament, to the Eisenhower jacket he created for WWII, Katie's legacy has inspired not only her love of fashion, but also the garments she creates. Designing clothes from the time she was eleven, Katie continues to draw on the heritage that shapes her work. At sixteen, a life-long education in textiles and tailoring acquired in her father's custom clothing shop and acquainted Katie with the principles of construction and the fundamentals of design. Infusing each distinctly feminine piece with sharp tailoring and soft drape, her clothes embody the modern interpretation of timeless dress. Following her love of fashion to NYC, Katie held internships at Vogue magazine's fashion and features department before graduating to a position in public relations at Teen Vogue. Today, Katie's work has been featured on Teen Vogue's very pages and in publications ranging from The Wall Street Journal to Lucky Magazine, WWD, Marie Claire and British Vogue. The New York Times Style Blog The Moment, Elle.com and Fashionista have each highlighted her collections and career in design. Known for artfully mixing clean minimalism with soft feminine details, Katie Ermilio curates her collections around the lifestyle and needs of the women who wear her clothes. Inspired by the intricacies of silk-screening and letterpress techniques, Katie's Autumn/Winter 2012 collection was printed entirely by hand – a process that infused the line with a uniquely personal touch. Placing glass beads on a mirror, the reflection and patterns the light created as she sketched each freehand sphere would later become her pearl print for the season. Echoed in the playful gradient featured on each printed piece, Katie's use of black pigment on the contrast of white fabric is intended to mimic the shading of natural light as it highlights the female form. Carefully balancing daywear, jackets, and gowns with special occasion separates, Katie's Fall line provides a range of garments intended to be mixed, matched, and seamlessly integrated into her woman's existing wardrobe. Hand-painted stripes add whimsy to double face satin tees, cashmere knits, and cigarette pants, while black fox fur and rabbit layer texture onto cashmere jackets and topcoats. The very glass beads that inspired Katie's original print also serve as embellishment on printed cocktail and evening offerings. Coming soon to Symphony, The Dubai Mall.
LOEFFLER RANDALL – NEW & EXCLUSIVE
Loeffler Randall was born out of designer Jessie Randall's quest to find the shoes that she wanted to wear but could not find – shoes that possessed an understated elegance, were well made, and undeniably feminine. With this distinct point of view, Loeffler Randall launched in the autumn of 2005. Styles like the Matilde flat boot quickly became staples among fashion editors and celebrities alike. Loeffler Randall's mix of refined sophistication and downtown cool filled a niche in the shoe market and the brand was embraced both critically and commercially. The Autumn/Winter 2012 collection is based on the concept of a 'Futuristic Pocahontas.' Inspired by the idea of someone from the past transformed and re-imagined in the future, the collection is both modern and natural with a raw edge. This contrast is evidenced by chunky futuristic platform pumps and booties that almost appear to levitate off the ground as well as modern takes on traditional moccasins and fringe. The juxtaposition of natural earth elements such as wool, wood, buckskin and animal prints and skins combined with sleek silhouettes and materials like mirrored metallic's and shiny metal studs create a strong contrast of rustic versus modern. Prints and patterns have a tribal feel, like a bold, hand-drawn stripe painted along a reptile skin. Leather reworked in unconventional ways such as the use of leather-covered studs offers a new, more feminized version of something traditionally 'tough.' The palette of silver, black, brown and chamois with pops of bright crimson is both classic and strong. This intensely wearable collection is grounded in lower heel heights and flats – fashion styles that are easy to pull on and go. Important new silhouettes include the 75mm Sophie signature wedge boot, a new, more casual welt sole "cowboy" boot and bootie and the introduction of signature flats in a range of covetable raw materials. Coming soon to Symphony, The Dubai Mall.
LUISA BECCARIA – EXCLUSIVE
Born in Milan, Luisa designed and showed her first collection at the tender age of twenty at an art gallery.  In 1984, she opened her first retail shop on via Madonnina, quickly followed by another one for her childrenswear designs. Then in 1991, she opened the present Luisa Beccaria store and showroom, located in the Brera district. Luisa Beccaria continued to show in non-traditional venues: art galleries, historic courtyards, public streets.  She was invited to participate in the "Alta Moda" shows in Rome from 1991 to 1993, where together with Valentino and Versace, she was invited to Paris by the Chambre National de la Couture to participate in the haute couture shows from 1993 to 1995.   Her clothing caught the eye of the French house of Chloé, where she was offered the position of women's Ready to Wear Designer.  Ultimately, however, Luisa chose to pursue her own vision, dedicating herself to the creation of her own ready-to-wear line. The Luisa Beccaria Autumn Winter 2012 collection is centred on a conceptual contrast of lightness and structure. The focus is on a real woman, who works but can still dream. She is a woman of today – ambiguous and even controversial at times, very much in charge of her own time, but also ethereal and dreamful. The romantic glow and the signature levity of Luisa Beccaria's style are still present, although for some of the looks have evolved to feature more structure, and at times, graphic shapes. Celebrity fans include Angelina Jolie, Julianne Moore, Gwyneth Paltrow, Julia Roberts, Sandra Bullock, Jennifer Lopez and Halle Berry. Coming soon to Symphony, The Dubai Mall.
Madiyah Al Sharqi – New & Part-Exclusive
Madiyah Al Sharqi, daughter of the Ruler of Fujairah, HH Sheikh Hamad bin Mohammed Al Sharqi, grew up immersed in high fashion. From an early age she witnessed tailors custom make lavish gowns and fell in love with the design process. Her eponymous label was launched after graduating from the prestigious French fashion university, Esmod and interning under renowned Lebanese designer Abed Mahfouz. Al Sharqi's debut collection offers effortless eveningwear with an updated edge, evolving the traditional vision of elegance. The stunning fifteen-piece Autumn/Winter collection features an array of garments, from gowns to jumpsuits – injecting timeless silhouettes with fresh colours and fabrics without losing Al Sharqi's regal sensibility. Al Sharqi was also named "One of the most exciting and promising designers to come out of this region" by Harpers Bazaar Arabia. This exciting young designer is already raising the benchmark of Middle Eastern designers. Symphony's edit features exclusive pieces for the season – coming soon.
MARIA GRACHVOGEL – EXCLUSIVE
The Maria Grachvogel Autumn/Winter 2012 collection is an evocative celebration of colour, print and texture. The palette is decadent with rich shades of garnet, peridot and petrel blue, which sit along side autumnal neutrals; almond and teak. The shapes this season have an air of relaxed, contemporary glamour with drop waists and signature draping throughout the collection. The fabrics are rich and varied with beaten satin in jewelled shades, touches of distressed gold lame combined with gentleman's winter tweed and leopard jacquard. The silhouette is languid with a nod to Deco and the speakeasy jazz era; a time of female confidence and new freedom of dress. The mood of the collection is easy luxe; these are relaxed pieces that epitomise the effortless way that modern women dress. The look is cool and insouciant with relaxed drapey shapes such as cocoon jackets and bubble shaped tops with slouchy oxford bags. Signature Maria Grachvogel magic pants appear in a cropped, cigarette leg and masculine slacks in wool tweed. The wide leg is carried through into the infamous Maria Grachvogel catsuits, which have louche asymmetric drapes and a wool crepe mini-cape version for day. Skirts are key for this season with the introduction of three new silhouettes, which as a collection are designed to suit every body shape. Pencil skirts are given a new season feel with drop waisted pockets; then there is the bubble shaped Ellington and the Charleston flippy skirt. Coats are structured yet slouchy and add to the androgynous feel. Maria Grachvogel's exclusive Artwork prints are bold with the jubilant explosion print; garnet and peridot fireworks against a smoky background. There are jewelled fish scales on beaten satin, effervescent gold dust clusters on georgette and dragon inspired prints on wool challis. This season sees the second footwear collection of Atalanta Weller for Maria Grachvogel. The collection consists of futuristic wedges in both ankle and knee high boots with an almond shaped toe, offered in black, pewter and bone. There is also the return of the Erickson Beamon for Maria Grachvogel jewellery collaboration with stand out deco cuffs, earrings and statement necklaces in a combination of oxidised silver and gold. Materials include smoky perspex and utilitarian chain with tusks, black pearl and crystal. Coming soon to Symphony, The Dubai Mall.
MIMI PLANGE – EXCLUSIVE
Ghanaian born and Southern California raised, Plange began her eponymous luxury ready to wear label, Mimi Plange, formally known as Boudoir D'huitres in 2007 with a desire to create American Sportswear inspired by Victorian and African historical fashion. Mimi Plange graduated from the University of California, Berkeley with a BA in Architecture and minor in Dramatic Art.  Upon completion of her studies, she decided her heart belonged to designing clothes rather than buildings and soon enrolled in San Francisco's Fashion Institute of Design and Merchandising, completing her degree in 2001. To fulfil her dream of becoming a fashion designer, Plange packed her bags and headed to New York City.  Starting as a merchandiser for a jewellery firm, Plange went on to work as a designer for various sportswear brands, collaborating with Patricia Field and working under Rachel Roy before establishing her own fashion-consulting firm, the parent company of Mimi Plange. Since its inception, Mimi Plange has been featured in Vogue.com, New York Times/T Magazine, Vogue UK, WWD, Harpers Bazaar, Essence Magazine, Marie Claire, Glamour Magazine, Cosmopolitan, Time Out Dubai, Genlux, Nylon, and Zink and worn by the Princess Astrid of Belgium, Rihanna, Vanessa Hudgens, Mary Birdsong, Kristin Cavallari, Shenae Grimes, Jennifer Missoni, Janelle Monae, Regina King, Alicia Keys, Katerina Graham, Michelle Trachtenberg, and Golden Globe nominated Piper Perabo.  Mimi's Autumn/Winter 2012 collection entitled Labyrinth" is inspired by a self imagined surreal Nordic Forest.  The delicate braiding and interwoven details of an ancient Celtic knot has been translated into winding trapunto embroidery. The photo artist, Paludario's haunting graphic art of symmetrical, otherworldly trees was also a source of influence, awakening a feeling of enchantment, spiritualism, and an underlining sense of chaotic order and repetition.  There is the soft romance of a relaxed silhouette bound by detailed structure.  The garments are crafted with fabrics such as silk velvet, texture alpaca wool and metallic gold brocade.  Other colours include various shades of wine, ecru, coal and crimson set against muted tones of blush and eggshell blue. Coming soon to Symphony, The Dubai Mall.
OMER ASIM – EXCLUSIVE
Sudanese designer Omer Asim studied architecture at The Bartlett followed by a postgraduate at the London School of Economics and Political Science. He experimented with the United Nations Development Program before deciding to train as a psychoanalyst. During his psychoanalytic training he became fascinated with 'clothing and appearance' in relation to mind and body – the mind lives within the body, and the body lives within the cloth. Omer learnt the craft through a number of internships starting with Maurice Sedwell of Savile Row and ending at Vivienne Westwood. His first paid assignment in the industry was a freelance with the wardrobe team of the Harry Potter saga. In September 2009 Omer presented an installation at London Fashion Week to mark the launch of his label. For Omer, simplicity is continually dissected and each season the focus is on a singular element. As always the mantra is: un-design. Autumn/Winter 2012 continues a love affair with BLACK chemistry – shade, form and, texture. This season the chemistry is extended to the work of ceramic artist Alexandra Mazur-Knyazeva. Nuance of rough and glazed ceramic translate into digital print. The aesthetic is an edited by-product of complex and unconventional processes of garment making, giving each piece a sense of authenticity and deflected luxury. Coming soon to Symphony, The Dubai Mall.
PRABAL GURUNG – EXCLUSIVE
Prabal Gurung launched his eponymous collection in February 2009 with a philosophy encompassing modern luxury, indelible style and an astute sense of glamour. His Fall 2011 show at Lincoln Centre marked the fifth season for the American designer.  Gurung was born in Singapore and raised in Kathmandu, Nepal. It was in New Delhi, India that his design career truly began.  While studying at New Delhi's National Institute of Fashion Technology, Gurung freelanced at several production and fashion houses and apprenticed with Manish Arora. His travels took him to Melbourne and London, where he assisted stylists for various fashion shows and editorials at international publications. In 1999, Gurung moved to New York City. He began his career in New York interning for Donna Karan while attending Parsons School of Design. In his first year, he was awarded the "Best Designer" title at the annual Parsons / FIT design competition. After Parsons, Gurung spent two years with Cynthia Rowley's design and production team, which allowed him to gain even more invaluable experience within the fashion industry. Soon after, he was appointed design director at the iconic Bill Blass. After five successful years, Gurung left his post at Blass to launch his own collection, Prabal Gurung. A focus on quality and innovation has placed Gurung at the forefront of emerging American fashion with designs worn by leading ladies including First Lady Michelle Obama, Demi Moore, and Zoe Saldana, to name a few. This season draws from the creation of the blue rose and Georgia O'Keeffe's artwork, particularly her "Cow Skull: Red, White, and Blue" painting.  The collection transitions from dark hues to a palette of cool blues and ends with rich whites and vibrant gold.  The pieces are beautifully crafted with quiet strength and femininity expressed through Gurung's signature attention to form, structure and detail. Coming soon to Symphony, The Dubai Mall.
RAZAN ALAZZOUNI – NEW & EXCLUSIVE
From an early age Razan exhibited a strong passion for all things related to art. Born and raised in Saudi Arabia, however, Razan found herself in an environment not conducive to artistic creativity. Determined to pursue her passion formally and further develop as an artist Razan applied to The School of Museum of Fine Arts and TUFTS University in Boston, Massachusetts where she spent her college years. While there, she concentrated on sculpture, screen-printing, and papermaking. Running parallel to her passion for art all these years was Razan's love of fashion. Razan's clothing is all about exuding the femininity, delicacy and grace of the female form. Razan derives most of her inspiration from women themselves and their natural poise. Each piece in her collection is intended to show off its wearer in an elegant light, while maintaining a sense of playfulness as well. The use of soft luxurious textures is dominant and allows for movement in the clothes, which adds a whimsical quality to the collection. The combination of chiffon and silk lends to the idea of women as soft, ethereal beings, which only enhances their femininity. The unique hand beaded pieces of the collection reflect the meticulousness, layers, and detail that have gone into creating each of Razan's signature flowers. Razan's pieces maintain sculptural and artistic integrity, as well as transport the wearer into the glamorous and sophisticated realm. Coming soon to Symphony, The Dubai Mall.
SARAH BAADARANI NEW & PART-EXCLUSIVE
Sarah Baadarani is a high-end women's wear collection established in 2010. In 2011, Sarah launched her first collection during London Fashion Week. The line is now in its third collection. Sarah was born and raised in London. She is of Lebanese descent. Her creative talents have been fostered since an early age, as a painter and through her passion for the fine arts. Her artistic abilities are evident in her bespoke collection, with its meticulous attention to detail and the bold experimentations with colour. It was during university that Sarah honed in her skills as a designer. She earned her degree in Fashion Design from Middlesex University, where she graduated 1st in her class.  While pursuing her degree, Sarah undertook several apprenticeships at both London based and International fashion houses, including Julien Macdonald and Meadham and Kirchhoff. The impeccable tailoring and structured asymmetry of her designs can be traced back to the fundamentals she learned during her time on Savile Row. Upon graduating, Sarah was employed by Mario Schwab. Out of this professional relationship, she secured a coveted position designing and consulting for Halston in both London and New York. In 2010, Sarah left Halston to set up her own label carrying her namesake. The label is sensual, feminine and effortlessly spontaneous. The unconventional pairings of fabrics and unique asymmetrical cuts draw out the classic tailoring of each silhouette. These powerful contrasts result in an aesthetic that is timeless yet distinctive. Both the day and eveningwear are versatile and easy to wear, specifically tailored for the modern women; she is intelligent and bold, yet boasts an understated confidence. Sarah continues to experiment and innovate her designs, especially her prints and patterns, by reverting to her origins as an artist and incorporating her paintings and digital photography. Sarah resides in London where the label is based. The AW12 Collection from Sarah Baadarani unleashes the softer and gentler elements of grace against a canvas of grandeur and excess. Inspired by the dichotomies of Deborah Turbeville's balletic nudes, Baadarani employs a bold aesthetic to contrast the classicism of her tailoring. Rich colours, extravagant fabrics and distressed embellishments inspired by Baroque style are pinned against a refined silhouette. These contrasts are confined and amplified by employing techniques of framing and lining, drawing influence from the photography of Erwin Blumenfeld. Coming soon to Symphony, The Dubai Mall.
SUNO – NEW & EXCLUSIVE
SUNO was launched in 2008 by Max Osterweis and Erin Beatty. Max first conceived of the brand after witnessing post-election violence in Kenya, a country he had visited throughout his youth. Realizing that political turmoil might scare foreigners from visiting or investing in a country so rich with talent, natural resources and goodwill, he decided to do something. Utilizing the vast collection of Kenyan Kangas he gathered over his many years of traveling, Max joined forces with Erin to launch a high-end collection with a conscience; thus SUNO was formed. Formerly a screenwriter, San Francisco native and NYU Tisch school graduate, Max has a high appreciation of art and design, but no formal fashion background. In August, 2008 he approached his friend Erin, a UCLA and Parson's graduate who previously designed at Gap and Generra for help. They have been together ever since, evolving the collection from its original Kenyan inspiration into a bright and worldly collection produced in ethical workshops and factories throughout the world.  With the exception of the vintage Kanga pieces, every SUNO print and fabric is developed in house and printed by the world's finest mills in Italy, Korea and Japan. Styles are designed and fit locally in New York and eventually produced in either Kenya, India, Peru or New York. SUNO makes an effort to use the local talents of each country it works with: developing beaded, sequined and embroidered styles in India, and Alpaca blended sweaters in Peru. While the inspiration for each season can come from anywhere, SUNO strives to maintain the optimism with which it was started in every detail. SUNO Autumn/Winter 2012 examines the fanciful fascinations of children – fairy tales and reveries and the youthful delight they bring.  The season is filled with sketchy prints inspired by illustrators Edward Gorey and Shell Silverstein, playful conversational patterns that arouse childhood joy.  In contrast, silhouettes are utilitarian, recalling the utopian principles of earlier times – simple and sophisticated uniforms containing mischievous prints.  Colours are vibrant and varied, filled with pulsing pops of fluorescent but grounded in a base of black and white. Coming soon to Symphony, The Dubai Mall.
TATA NAKA – NEW & PART-EXCLUSIVE
Tata-Naka is designed by identical twins, Tamara and Natasha Surguladze, born in Tbilisi, Georgia, 1978. The name Tata-Naka originated from their childhood nicknames and thus was an organic choice when deciding on a signature name for the brand. The two sisters arrived in London in 1996 to study design at Central St Martin"s. On graduating in the year 2000 Barneys NYC dedicated a wall to their awe-inspiring collection. The British Fashion Council that is globally renowned for being the launch platform for emerging talent has consecutively granted Tata-Naka with the celebrated "New Generation" award at London Fashion Week and has seen the brand blossom into an independent UK luxury design house with 2012 being their 12th anniversary in the industry. Ambassadors include Cameron Diaz, Mina Suvari and Sarah Jessica Parker. The Tata-Naka collection regularly starred in the legendary series ""Sex in the City"" and was worn by Carrie Bradshaw on the cover of the official book. For the past years Tata-Naka collections have been shot in a wide range of main fashion publications from Vogue to i-D and featured in numerous leading UK broadsheet supplements. Tata Naka's inspiration for the AW12 collection began with the music and styling of Motown – the Supremes, Diana Ross, Martha and the Vandellas. When the designers started to trace the roots of this cultural phenomenon they discovered the strong influences of Africa – the music, ornamentation and dress of Malawian tribes and the photography of West Africans Malick Sidibé and Seydou Keita. Through this collection Tata Naka have explored how African culture influenced the music and arts scene in America, referencing tribal arts and culture but in a modern context via the music and styling of Motown. This season's shapes come from America via Africa and reflect the intricate folds and drapes of the traditional Kanga re-interpreted into modern, clean cut dresses and asymmetrical lines. Accessories are taken from the multi layered necklaces and bracelets of Malawi and recreated with brightly coloured tubing, silk appliqué and diamantes. Coming soon to Symphony, The Dubai Mall.
VIKA GAZINSKAYA – NEW & EXCLUSIVE
Vika Gazinskaya was born and brought up in Moscow, Russia. Vika studied fashion design in Moscow. During her student years, she participated and won Russian fashion design contest, Russian Silhouette. One of her prizes was an internship opportunity at L'Officiel Russia magazine, where she developed her deep knowledge of fashion industry. After interning for a year, she was hired as a fashion editor there. She managed to work and study at the same time. Later, Vika worked as a freelancer for a while, before she finally presented her first collection in 2007. Her brand received an instant recognition due to the highly personal aesthetics, strong lines and graphic forms. Buyers and press praise her collections. They appreciate the couture-like quality of garments and materials, as well as futuristic edge of construction and design. The brand is known for unique seasonal runway shows during Cycles and Seasons Fashion week in Moscow. Each show is typically staged as a theatrical performance, through which Vika channels the theme of each collection. Vika manages everything in her company herself: from creative ideas, design, and fabric selection, to production and PR. With very little financial back up, Vika was able to reach high level of recognition among fashion-lovers and industry professionals. With the development of fashion blogs, Vika Gazinskaya`s personal style and her designs became a street style phenomenon. This turned out to be an unplanned but very successful PR strategy for Vika Gazinskaya brand. The Autumn/Winter 2012 collection by Vika Gazinskaya projects luxury aesthetics with a modern twist. Designer leaves her own mark on various historical periods and silhouettes, while creating feminine and sophisticated look. Corseted dresses made of shiny brocades with a clean silhouette are echoed with the copper-gold "court" jacket in the style of Peter's the Great time of the Russian Empire. "Grapes" print for sundresses, trapeze-shaped cocktail dresses and skirts reminiscent of still life paintings of Dutch artists. Coats with fur collars, as well as graphic skirts, cropped pants, pencil skirts, and evening gowns look amazingly coherent and appropriate with "faux jewelry" trimmings on the sweatshirts. The unique hand-sketched pencil print – is one of the highlights of the new collection. The cotton blouses and silk tops feature this elaborate print, inspired by the brocade fabrics from the collection. One can easily follow the creative thought process that the designer undergoes while working on the collection. The heart of the collection – is luxurious brocade. Playing with both sides of the fabric, both face and inside play equally important role in designs. Designer creates revolving and folding pockets, creating a patchwork-like effect on skirts and dresses. Vika Gazinskaya`s trademark – is an impeccable, couture-like quality with which her designs are executed. This collection emphasizes her attention to detail while cutting and sewing every single garment. Each piece deserves a closer examination and appreciation on how well it's made. The muse of the Vika Gazinskaya fw`12 collection – is a feminine and emotional creature, who has such refined sense of style, that she easily mixes luxurious brocade items with sportswear – inspired sweatshirts, decorated with wooden "diamonds". The woman, who always remains true to herself, embraces her natural glamour and elegance. She is a true style icon. Coming soon to Symphony, The Dubai Mall.
Autumn/Winter 2012 at Symphony The Dubai Mall
Alessandra Rich | ALICE by Temperley | Anna Sui | Angel Jackson | Antonio Berardi | Aperlai | Badgley Mischka | Bionda Castana | Barbara Casasola | Camilla Skovgaard | Christian Siriano | Felicity Brown | Georges Hobeika | Halston Heritage | Issa London | Jason Wu | Jenny Packham | Kara Ross | Katie Ermilio | Loeffler Randall | Luisa Beccaria | Madiyah Al Sharqi | Marchesa Accessories | Maria Grachvogel | Michael Van Der Ham | Mimi Plange | Naeem Khan | Opening Ceremony | Omer Asim | Prabal Gurung | Pierre Hardy | Rupert Sanderson | Rachel Zoe | Razan Alazzouni | Sarah Baadarani | SUNO | Tata Naka | Tibi | Vika Gazinskaya | Zac Posen
Symphony | Ground Floor, Fashion Avenue | The Dubai Mall | T: 04 330 8050
View Comments / Make a Comment